Samurai Route
Russian version of Groundhog Day
The farewell to Russia is a bit complicated, but we are taking it with patience and as much good humor as possible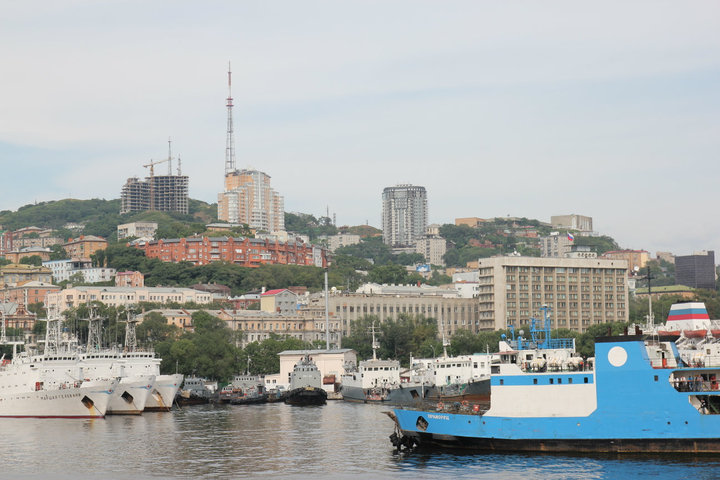 It's been more than a month since I've deigned to write something with a little literary substance and I'm going to avoid telling all the pathetic excuses that come to my mind.
We have been in Vladivostok since last Wednesday and we have only two more days left to catch the ferry that will take us to South Korea and then to Japan. I don't need to tell you how much I'm looking forward to getting there, those of you who know me will be tired of hearing me talk about Japan now and then. The fact is that we had to stay a week in this city because the ferry to Japan only leaves once a week. Besides, we had the "misfortune" to arrive only a few hours after it left. A few days later we realized that it was not such bad luck because we started to make arrangements and realized that we needed two or three days to arrange the papers for the motorcycles.
We were a bit naive and arrived in Vladivostok with no idea of the schedules or the number of ferries. Then we found out that there were only three possible options: the first was to take two ferries and cross to Japan via Sahalin Island (Russia) and then arrive at Wakkanai (in Hokkaido). This option was soon discarded (although it was my favorite because I would have liked to see Hokkaido). We already had the ATA carnet papers set up for Vladivostok and seeing how the picture is with customs, we preferred to risk 0.0.
The second option we had was to take a direct ferry to Toyama, but apparently, the company that offered this service decided to sell the ferry and close the company. They were probably not profitable or maybe they got into debt drinking too much vodka and had to sell, who knows, but the fact is that they screwed up our plan.
The third option (the one we liked the least) turned out to be the only way out of Russia. Travel to Donghae (South Korea) and then to Sakaiminato (southern Japan) with the DBS company. The trip lasts two days and cost us a whopping 600 €. A considerable pastiche!
During these days that we have to be in Vladivostok, we have taken the opportunity to do the laundry, try to buy some new shoes for Vicente and generally move our asses a bit around the city. We have been quite comfortable in the hotel and the truth is that a few days of rest are very appreciated. I like to ride the bike around on my own, running errands as if I were in Alicante. I know the streets and know how to get to the places in the neighborhood. It is a feeling that I always like to repeat. Already when I went to live in Barcelona and Madrid I started to like it and it doesn't seem to disappear. Starting again from scratch in a new city is amazing! Every day there is something new to learn and overcoming challenges has something of chemistry - endorphins maybe? - that makes it quite addictive, at least for me.
To go to do business in Russia I already have the idea that I am going to spend most of the day. You have to have a lot of patience and be very persistent. I often say to Vicente, "See? if we had given up when they told us that, we wouldn't have made it". Officials tend to close many doors on us, they don't want to help, we are a complication for them, and we don't speak the language. We have to be very persistent and use the tactic of silent protest. This technique has worked quite well for us during the whole trip and I am going to explain it because it is funny.
When the Russian authorities close in and there is no way to get anywhere, you have to do like Gandhi. Non-violent protest. Non-verbal warfare. We look for the place they like the most, where they gather to smoke a cigarette or a busy crossroads, the point is that they see you and make them uncomfortable. We go directly to that place and do a sit-down. We start talking to each other and wait for their reaction. After a while, someone more predisposed to help always appears or calls someone else who knows a little English. The point is to get rid of us :-)
In the hotel where we stayed, we also met three other bikers who are also traveling around the world. Jesus, a Basque who travels from Spain to Australia, has a Ural motorcycle (Russian brand) with a sidecar. He likes to play the classical guitar and smoke. Has red hair and sometimes spends a while talking without looking at your face. Eric is French, but his grandfather was Spanish. He is an extreme travel photographer and travels from Spain to Shanghai on a 350 kg Harley-Davidson (with two balls). He carries 3 gas cans and can do 700 km without stopping. He put his bike in China in the trunk of a bus, but he got caught and had to leave China a few days later. The last one is Alex, a Swiss biker who goes all the way to Japan on a GS1200. Today he has gone back to Moscow, where he will pick up his bike that he sent on the Trans-Siberian from Vladivostok.
Anyway, we've put together an interesting crew and we get together from time to time to tell travel stories and drink beers, so we'll keep going for a couple more days!